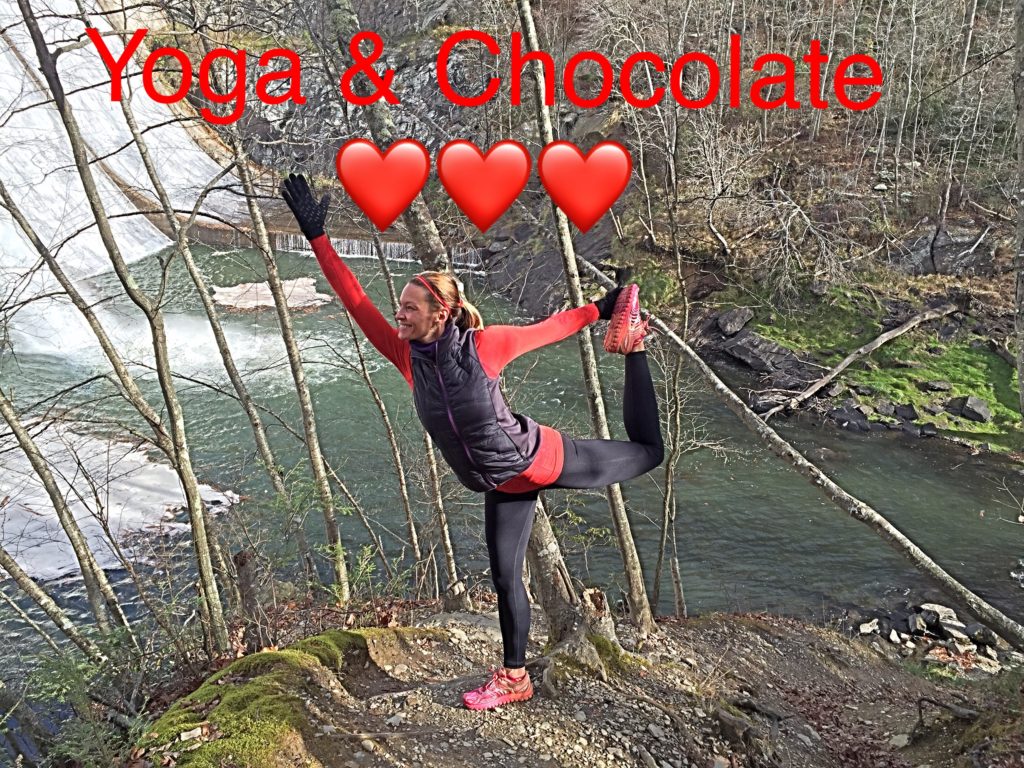 In the middle of a Covid Winter… I could use a little pick me up! If you're feeling the same, join me for the 7 Day Yoga, Superfood & Self Care Challenge (yes it involves healthy chocolate. Read on for benefits and recipes…
But first, here's how to join the FREE 7 Day Yoga, Superfood & Self Care Challenge…
Subscribe to my YouTube channel for daily yoga videos
Subscribe to my Enews for the Healthy Chocoholic Ebook with recipes
Join the Facebook Event, share & invite friends for extra accountability and fun
Stock up on Superfoods via THRIVE Market or my Amazon Superfood & Self Care shop
Follow along on Instagram and tag @flexiblewarrior #flexiblewarrior with you yoga, superfood or self-care posts for a chance to win a signed copy of my book Find Your Flexible Warrior: think, stretch & eat for balance & resilience
Let's face it, 2020 had it's challenges and transitioning into 2021 didn't make those challenges magicaly disappear. Plus, by February, over 75% of people have already bailed on their new years resolutions!
So NOW is a perfect time to "pencil yourself in" to ramp-up your self-care and lift your mood and energy with yoga, superfoods and self-care!
For me, essential oils and supplements are a HUGE part of my self-care routine … CLICK HERE to order a few essential oils for the challenge (like Serenity & Motivate blends) oils or a full kit. 
And stock your pantry superfoods (including everyone's Valentine fave… Chocolate!)
Wait, chocolate? Yup, you read it right!
Raw cacao, matcha, yoga and essential oils all have amazing benefits to lift mood and energy and boost overall health…
Chocolate often gets a bad rap for being unhealthy, but raw cacao is actually an amazing superfood that boosts mood and energy!
Matcha is green tea powder that is packed with antioxidants! It lifts mood, boosts metabolism and creates calm energy without the coffee crash!
Yoga offers many powerful benefits and lifts mood, energy and overall health and wellness along with gains in strength, flexibility and resilience.
Essential oils are natural plant compounds with powerful benefits that can be used to support healing and lift energy and mood, among other things. I use essential oils daily for everything from non-toxic house cleaning and home made skin care products to boosting energy and immunity! Essential oils offer a quick, easy and inexpensive way to positively effect your mood, health and wellness on all levels.
Superfoods like chocolate along with yoga & essential oils can…
lift spirits & mood
improve gut health 
boost energy & vitality
reduce aches and pains
support healthy weight loss 
create "calm energy"
boost immunity & overall wellness
improve sleep & support recovery
lower blood pressure
reduce stress & anxiety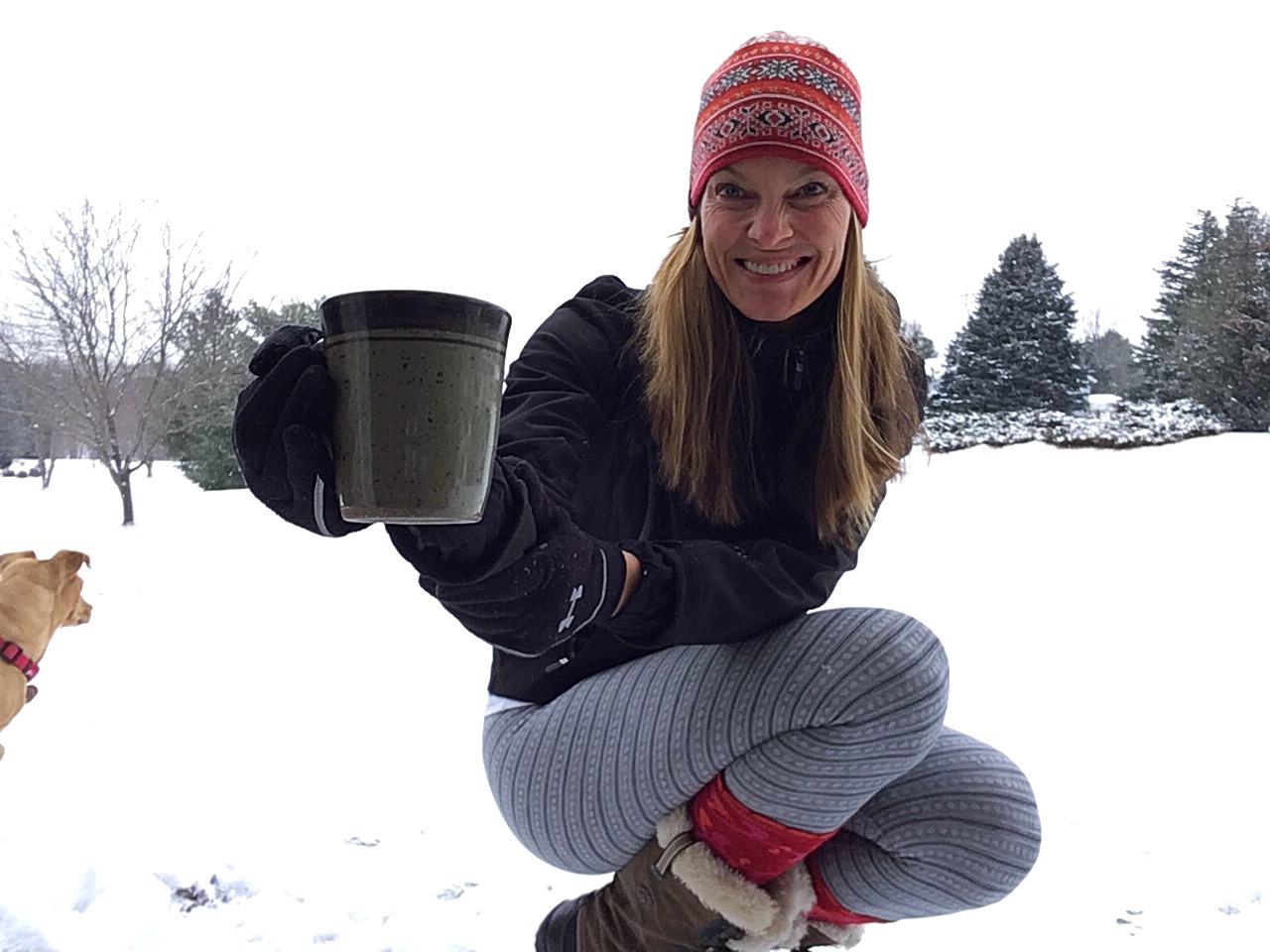 Have you ever tried the combo of matcha with chocolate? To me, a hot chocolate mint matcha latte along yoga sun salutations and upflifting essential oils pick me up every time! It's my favorite pre or post shoveling combo (see recipe below)
Energizing and uplifting essential oils like peppermint, wild orange or blends like Cheer and Motivate,  can really help get you back on the upward spiral in the doldrums of winter!
Remember, we can't give from an empty cup. We're of no help to anyone when we're runned-down, burned-out or sick in bed! That's why adding in yoga, superfoods and self-care is the opposite of selfish.
And, by the way, you're much more likely to get a cold or flu when you're exhausted, stressed and eating junk-food! So fueling up for nutrient-dense superfoods and adding in the stress-reducing benefits of essential oils, yoga and self-care can keep your mind, body and spirit healthier and happier through the winter season.

Yoga, Chocolate & Matcha with essential oils is a magical, uplifting combo… 
"Healthy chocolate" might sound like a contradition in terms but raw cacao is a superfood that's high in vitamins and minerals like magnesium (which is beneficial for the heart, brain and muscles) and is the highest plant-based source for iron. Cacao has 40 times the antioxidants of blueberres and is naturally energizing and mood-enhancing! And yes it tastes fantastic (see recipe below for Chocolate On Guard Superfood bites).
Studies have linked matcha to many health benefits, such as:
Cancer Prevention
Weight Loss
Detoxifying
Boost Athletic Performance
High in Antioxidants
Boosts Immunity
Speeds Recovery
Improve Gut Health 
Disease Prevention (such as heart disease and diabetes
Energizing Hot Chocolate Mint Matcha Latte
1/2 cup water
1.5 teaspoons cacao powder
1 teaspoon honey or maple syrup
1/2 teaspoon vanilla extract
1 cup low-fat milk, or unsweetened coconut or almond milk
1 drop peppermint essential oil (optional but amazing uplifting chocolate mint flavor)
To prepare: Boil water and blend in remaining ingredients (I use a Vitamix blender but a whisk works great too). Blend until smooth, then heat and on stovetop and continue to whisk until warm and frothy. Slow down, breathe and enjoy every sip!
GREEN is the heart chakra color, so these Matcha Green Energy Bites a perfect and healthy Valentine treat… 
Ingredients:
1 Cup Raw Walnuts
1/2 Cup Dates (deseeded and chopped)
pinch of Himalayan Salt
1 Tablespoon almond butter
1 teaspoon vanilla extract
1 Tablespoon cacao nibs (optional)
10 drops ginger or peppermint essential oil (optional)
Blend the walnuts and dates in a high speed blender (I use a Vitamix) or food processor to a sticky dough. Blend in remaining ingredients mix well until it forms a dough. Form into bite-sized balls. Refrigerate. Enjoy the combo of plant-based greens plus matcha! Great for a healthy and fast breakfast or an afternoon pick-me-up!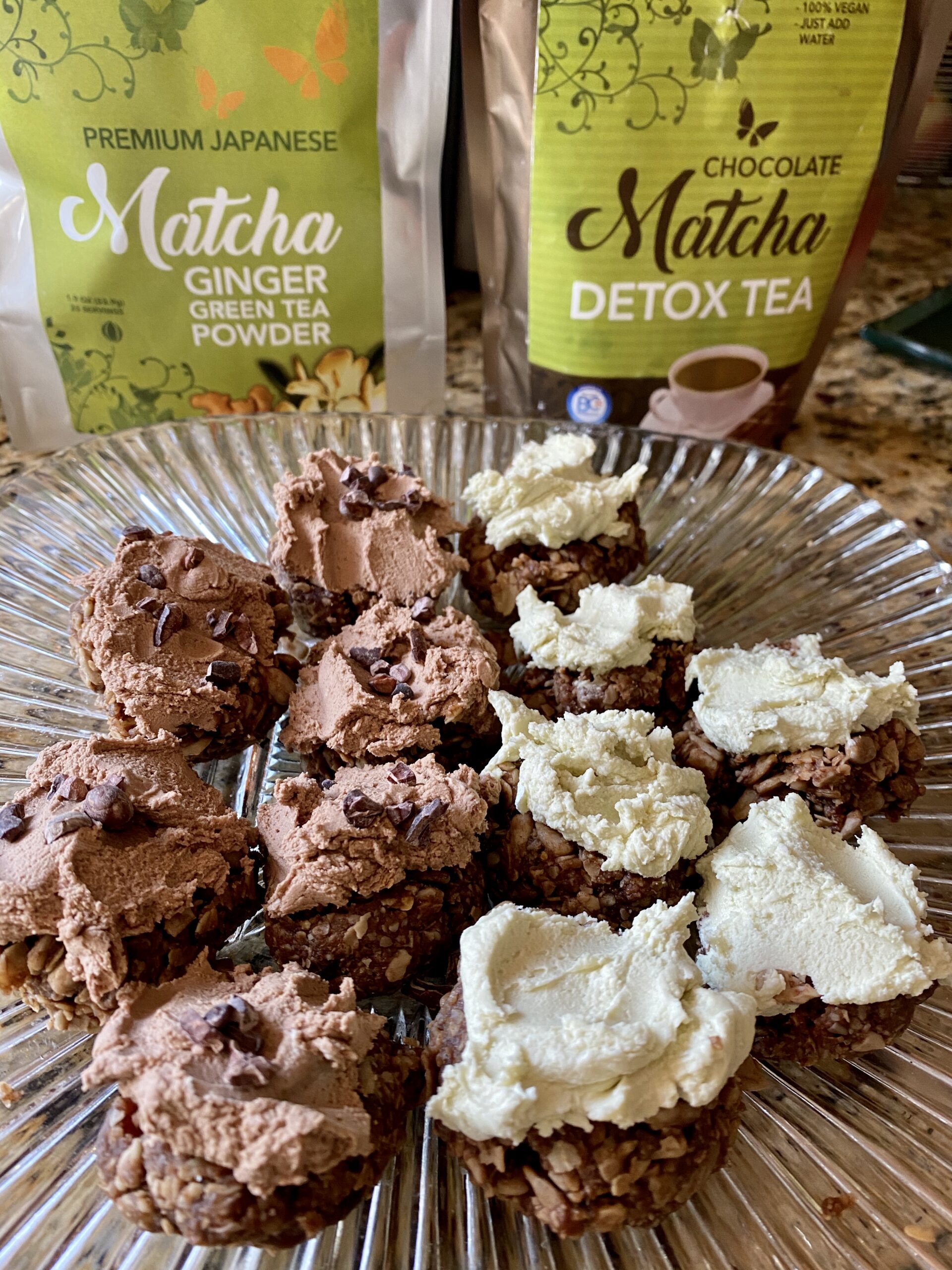 If you're looking for a wonderful but healthy treat, you must try these Healing Butterfly Ginger Matcha cookies!  They gluten and dairy-free and provide a natural energy and mood boost, along with digestive and immune support!
I don't have a dehydrator, so I baked the cookies at 200 degrees for 30 minutes and they came out chewy and delicious. I also used sunflower seeds instead of pecans (because that's what I had in the house 🙂 and I made two different icings (by splitting the icing recipe in half, and adding 1 T of cacao and cacao nibs to half of the icing). Amazing!!!
Try these mood-lifting, immunity-boosting Chocolate On Guard superfood bites…
One of my #1 go-to essential oils in winter is On Guard Protective Blend because it helps support the body against all the nasty cold and flu bugs going around this time of year. And there is nothing sexy about having the flu on Valentine's Day or EVER really … so I have On Guard hand-sanitizer in my purse and car, flowing through my diffuser in my yoga studio and living room and I just discovered that blending it into my superfood ball recipes is pretty spectacular (chocolate, clove and cinnamon… YUM).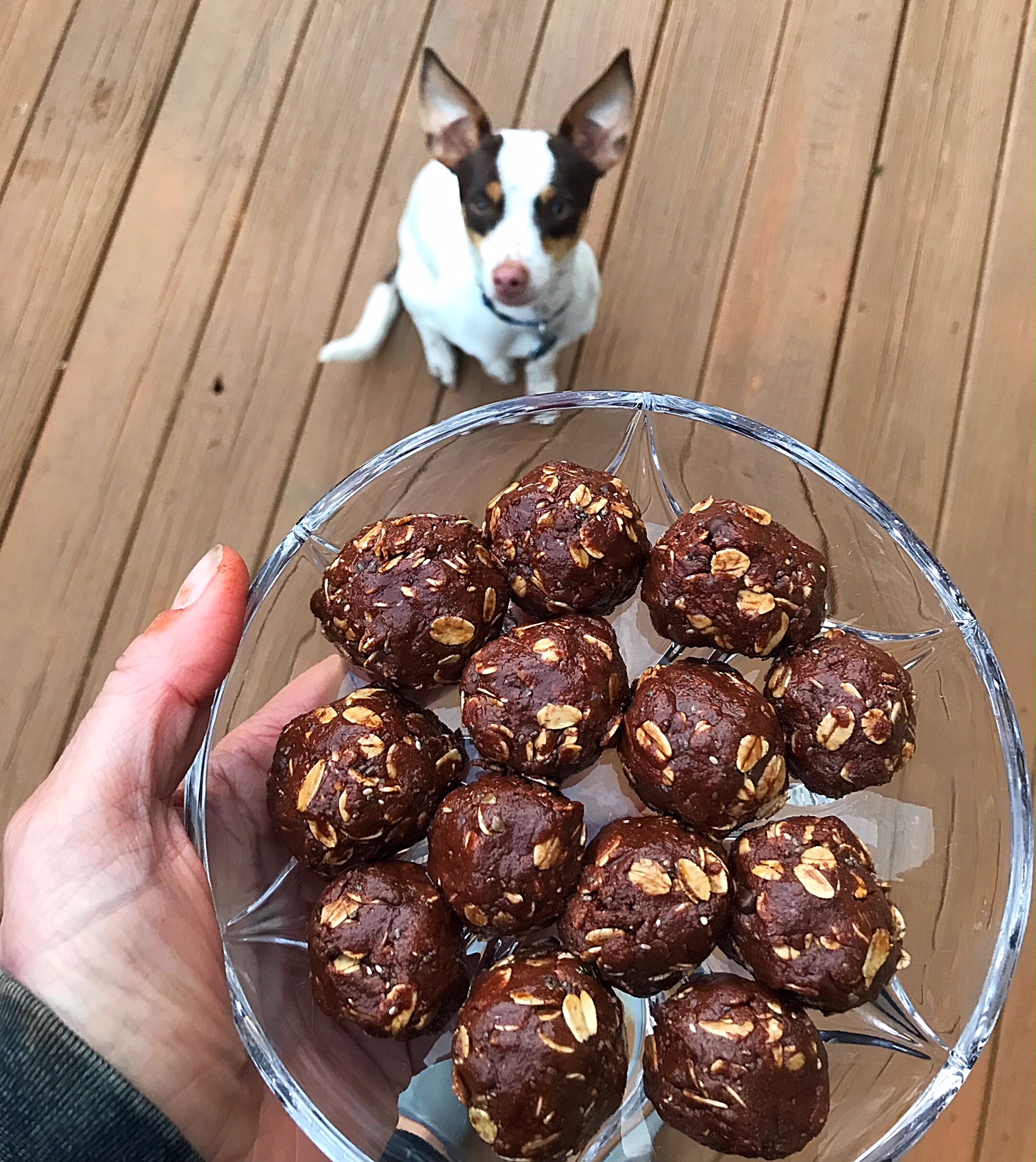 Chocolate Superfood Bites
1 cup gluten free oatmeal
1/4 cup almond flour
2 Tablespoons raw cacao powder
2 Tablespoons cacao nibs
pinch Himalayan sea salt
3 Tablespoons raw local honey or maple syrup
¼ cup almond butter
2 T coconut oil, melted
1 teaspoon vanilla extract
10 – 15 drops On Guard Protective Blend Essential Oil (optional but recommended :))
Combine dry ingredients. Melt oil and add in honey almond butter, vanilla and essential oils. Mix all ingredients well (I blend in Vitamix but you can do by hand or other blender). Roll into balls. Refrigerate to keep longer but the coconut butter hardens when cold, so warm to room temp before eating.
So pencil yourself in this February and add in some Yoga, Superfoods & Self-Care to boost your energy, mood & immunity! 
If you need extra support and someone to hold you accountable to your self-care, health and wellness goals, I also offer personalized one-on-one yoga and health coaching sessions
Stay Healthy, Positive & Flexible, Warriors!
Karen Dubs