Happy February Warriors!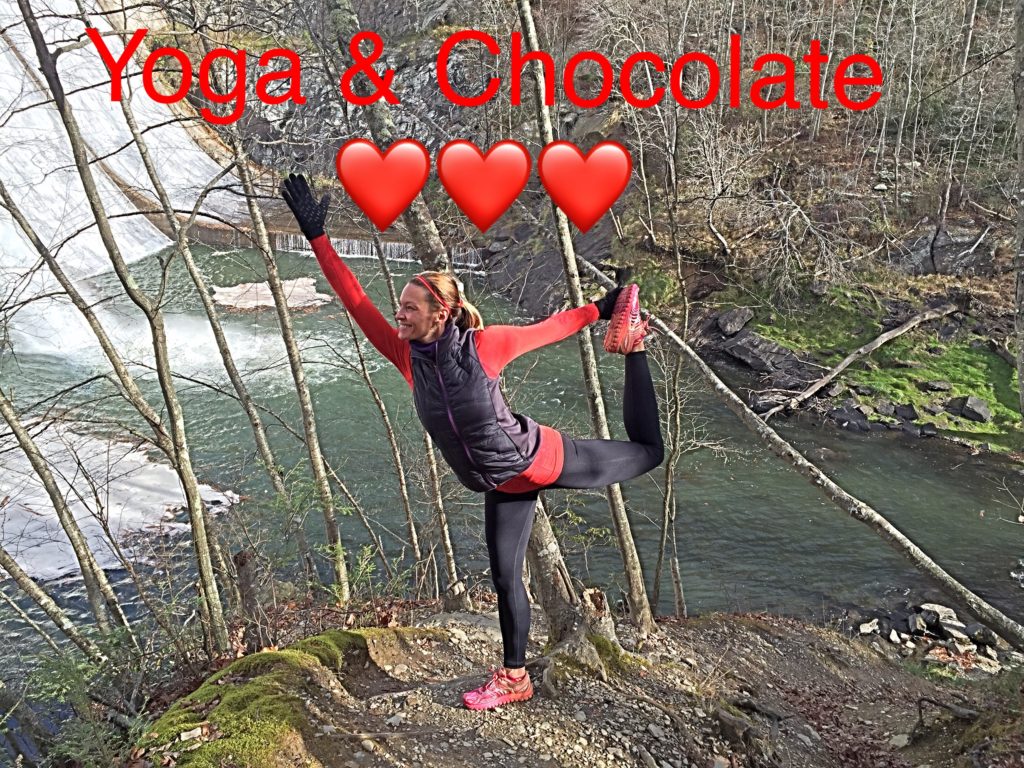 How has your self-care been lately? Have you been getting enough sleep? Have you taken a time-out for rest and relaxation? Maybe enjoyed a massage or a hot bath?
February is a perfect time to "pencil yourself in" and ramp-up your self-care practice.
We can't give from an empty cup. We're of no help to anyone when we're runned-down, burned-out or sick in bed!
That's why I feel like self-care is the opposite of selfish.
And, by the way, you're much more likely to get a cold or flu when you're exhausted and eating junk-food.
So ramp-up your self-care and boost your immunity with two of my Valentine Favorites…
Yoga & Chocolate (with essential oil bonus 🙂
"Healthy chocolate" might sound like a contradition in terms but raw cacao is a superfood that's high in vitamins and minerals like magnesium (which is beneficial for the heart, brain and muscles) and is the highest plant-based source for iron. Cacao has 40 times the antioxidants of blueberres and is naturally energizing and mood-enhancing! And yes it tastes fantastic, especially when blended with a few drops of high-quality, food-grade essential oils (meaning, don't just pick up essential oils at your grocery or big box store where they can be toxic!)
One of my #1 go-to essential oils in winter is On Guard Protective Blend because it helps support the body against all the nasty cold and flu bugs going around this time of year. And there is nothing sexy about having the flu on Valentine's Day … so I have On Guard hand-sanitizer in my purse and car, flowing through my diffuser in my yoga studio and living room and I just discovered that blending it into my superfood ball recipes is pretty spectacular (clove and cinnamon).
Try these mood-lifting, immunity-boosting Chocolate On Guard superfood bites…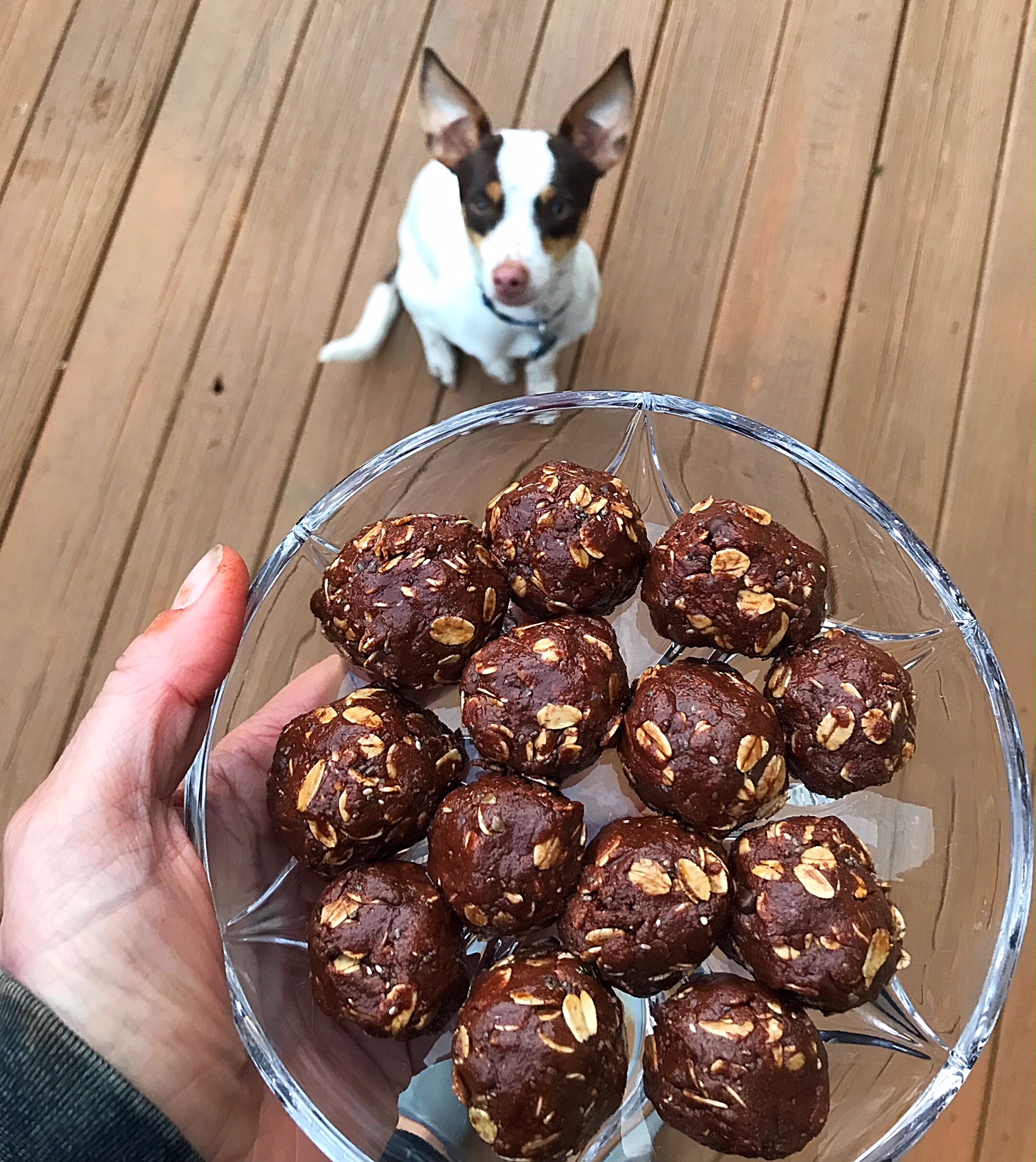 Chocolate On Guard Superfood Bites
1 cup gluten free oatmeal
½ cup almond flour
2 Tablespoons raw cacao powder
2 Tablespoons cacao nibs
2 scoops collagen peptides
pinch Himalayan sea salt
3 Tablespoons raw honey
¼ cup coconut butter, melted
3 T coconut oil, melted
1 teaspoon vanilla extract
10 drops On Guard Protective Blend Essential Oil (optional but recommended :))
Combine dry ingredients. Melt coconut butter and oil and add in honey, vanilla and essential oils. Mix all ingredients well. Roll into balls. Refrigerate to keep longer but the coconut butter hardens when cold, so warm to room temp before eating.
Yoga, essential oils and raw cacao all have benefits to boost health and vitality. Combine all three and BAM it's naturally energizing, uplifting and immunity – boosting…
improve energy and vitality
reduce chronic aches and pains
support healthy weight loss and overall wellness
improve circulation
create a sense of "calm energy"
boost immunity
improve sleep
lower blood pressure
reduce stress and anxiety
Sometimes we just get so stressed, runned-down and caught-up in our hectic lives that we forget our true nature and warrior-spirit. But with a little commitment and self-care, that warrior spirit will SHINE again.
The simple combination of Yoga, Superfoods and Self-Care helped me find my Flexible Warrior spirit again, after being diagnosed with both Lyme and Hashimoto's thyroiditis in the same year.
Here is a Valentine-inspired Yoga Segment you can do at home… 
If you need extra support and someone to hold you accountable to your self-care, health and wellness goals, I also offer personalized one-on-one health coaching.
Sign up for my enewsletter to get a free chapter of my book "Find Your Flexible Warrior" plus 5 recipes to help you break your sugar addiction!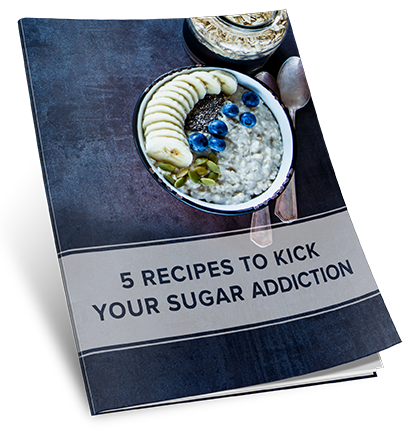 Happy Valentine's Day and Stay Flexible, Warriors!
Karen Dubs