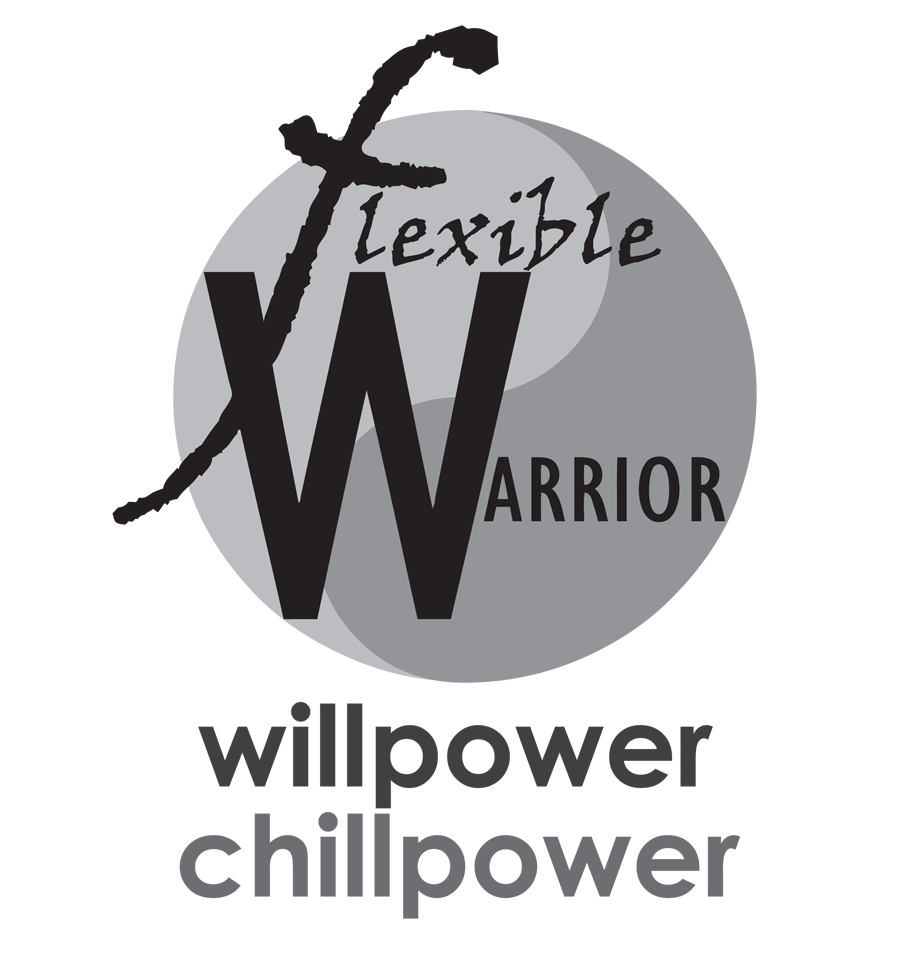 A Flexible Warrior is adaptable, open, resilient, balanced and free.
He or she can bend without breaking, calmly respond to stressful situations, and turn obstacles into opportunities.
A Flexible Warrior is all business, but has a sense of humor. He works hard and digs in when he needs to… but he also makes it a priority to chill out and recharge.
Warriors have great strength, endurance and willpower, but when their minds and bodies are balanced with recovery, flexibility and chillpower, they are even stronger, more powerful and resilient.
Terrell Suggs is a Flexible Warrior. Are you?
I obviously can't take any credit for Terrell Suggs. His genetics and work ethic make him the amazing athlete he is.
I started teaching Spinning, foam rolling and yoga for the Baltimore Ravens in 2004, the year after Terrell was drafted. I remember lots of players in class … Ed Reed, Will Demps, Jarrett Johnson, Mark Clayton, Kyle Boller, Tony Pashos, Matt Stover and of course the always entertaining, enthusiastic and energetic Bart Scott (still one of my all-time favorite Ravens :))
I honestly don't remember Terrell in the first few years I taught for the Ravens … Probably because I don't think Terrell was a big fan of yoga or stretching in those early years …and yoga was not mandatory for the players, so he likely opted for an early lunch. Hey, I don't blame him! Yoga is a hard sell when you're 22 and hungry after a hard practice.
But over the years, Terrell got more open to doing whatever it took to help his body stay recovered and give his career more longevity.
After 16 years in the NFL, amazing stats and a seven-time Pro Bowler, Terrell is clearly doing something right!
Last season after one of our sessions together, he said he wished he had started these yoga and recovery sessions years before. He said something like, "I can only imagine what I could have achieved if I had started these recovery sessions earlier in my career."
I think we can all relate to that on some level. But with age comes wisdom and willingness to do things we that stretch us (no pun intended).
For the last 6 years, I was blessed to see Terrell once or twice most weeks to help him stay flexible and recovered. He and I called it Mondays, Movies & Mashing (since his sessions were typically post game day on a Monday mornings, he's a huge movie buff so he'd play a movie during his sessions to boost the chillpower factor, and he is a big fan of mashing, a body work technique that helps speed recovery. He also became a fan of the essential oil concoctions I'd use to reduce foot cramps and support his recovery.
As for the superfoods, he was coming around little by little to all that. In fact, I made him do a tumeric shot with me on my birthday and he said "that wasn't bad". Ha. I just needed one more year with him to get him eating chia seeds before a game and drinking kale smoothies after!
Over the years, Terrell and I became friends. Due to his crazy in-season schedule, I saw Terrell many holidays like Christmas Eve and New Years Day and, as luck would have it, I even saw him on my 50th birthday (looking back, I wish I had taken a pic that day, but it was Terrell's recovery time, so I rarely took pics). In fact, I have one pic of us from our entire 6 years together!
But one Monday, I twisted his arm take a short "time out" to talk about recovery and flexibility…
Although I don't remember Terrell from his rookie year, I do clearly remember the first time our paths almost literally collided…
It was August and the team was knee-deep in training camp.
I was walking down one empty corridor at the training facility (most other players and coaches were out on the practice field) and I heard this loud, pumped-up voice yelling some excited expletives down the other corridor.  I couldn't see who it was, but I recognized his powerful voice and knew it was the one and only T-SIZZLE.
A few steps later I was face to face with Terrell Suggs and he said "Oh, excuse me Ma'm" (apologizing for the words he used to get pumped-up and ready for practice when he thought no one was listening).
I laughed and said, "Are you kidding?! Don't be sorry! I LOVE IT!" He smiled and ran out onto the practice field, carrying all his contagious energy and enthusiasm with him (although it definitely rubbed off on me that day).
Later that day, I saw him in the cafeteria and he asked "you got anything for my hammie?" (which was evidently bothering him). And I said, yup, come on back and I'll mash it out." He said, "you'll what?" I said "I'll walk on it and loosen it up." And he looked at me, shrugged and said "ok, I'll try it"… and later that day I mashed and stretched out his hamstrings, hip flexors, hips and quads. The stretch and mash session must have helped, because we've been doing sessions together ever since.
I consider myself so blessed to get to work with Terrell all these years…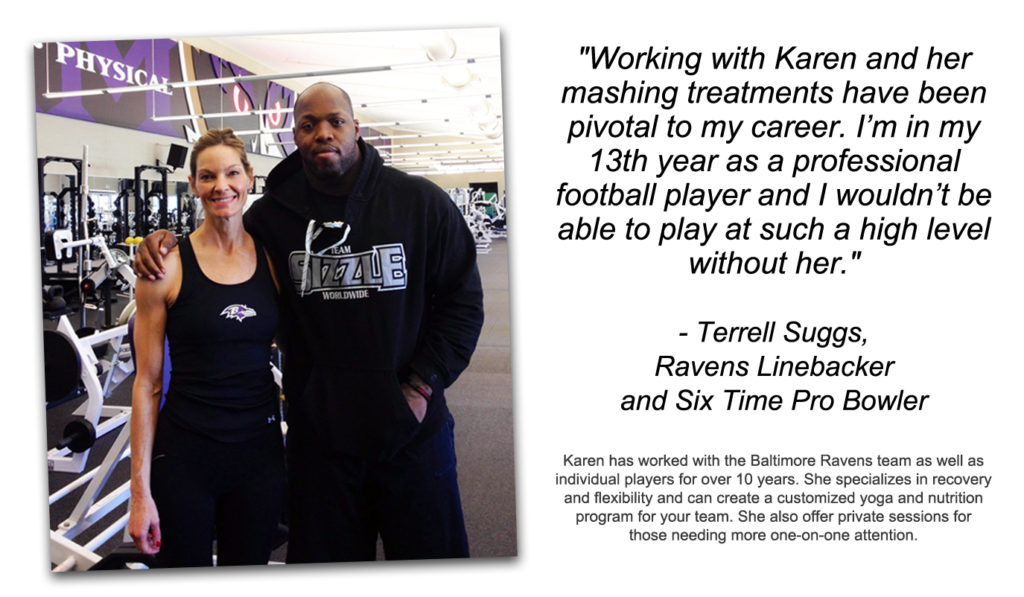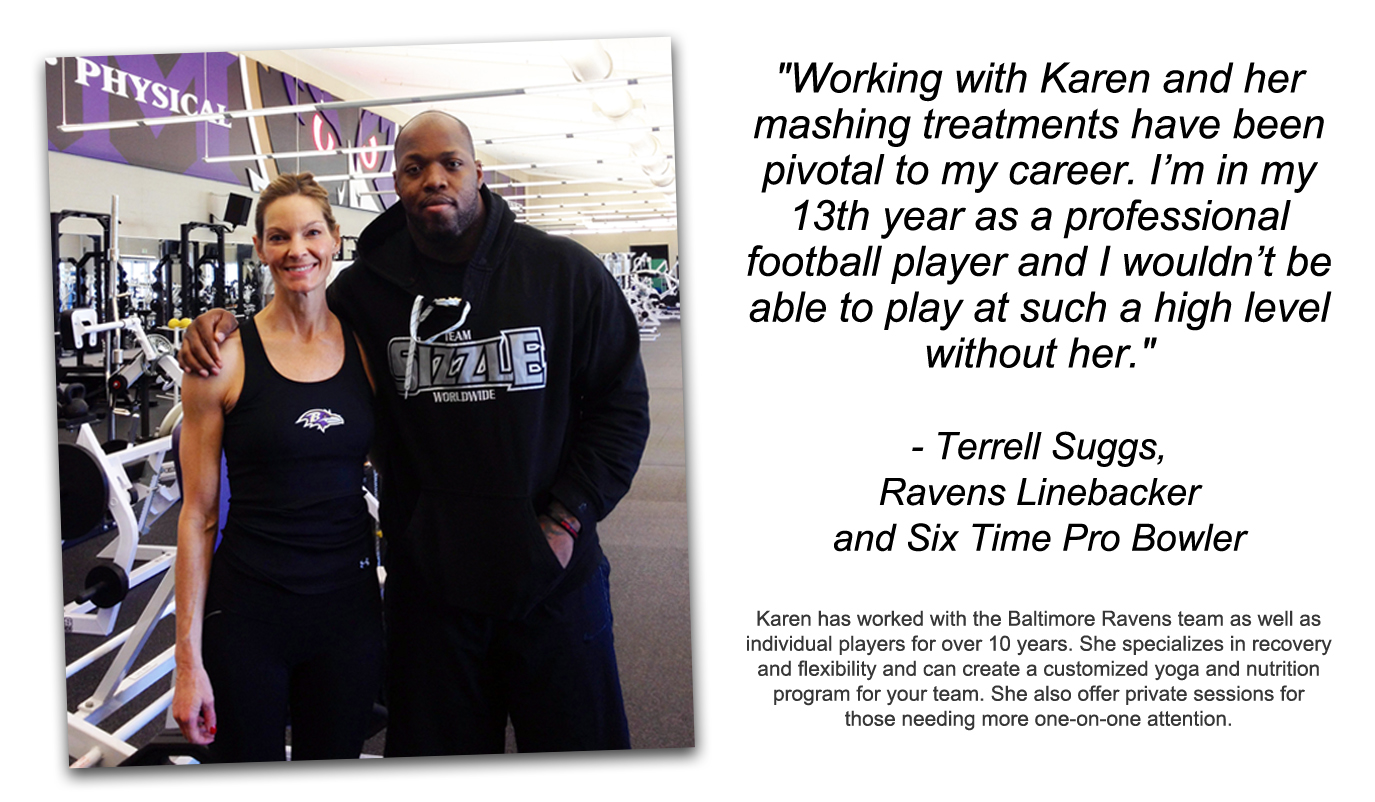 Yes, of course I love Terrell Suggs for his competitive, passion and talent on the field. But it's his kind, gentle spirit (yes I said gentle), his commitment to his self-care and recovery, his integrity and his sense of humor that makes him a true "Flexible Warrior".
Willpower. Chillpower.
Being a fearless warrior who knows how to fight and win is one thing, but rare are the warriors that are also flexible, humble, kind, relaxed, generous, compassionate and respectful … Those are the kind of players I love to cheer for. You can bet I'm cheering loud for T-Sizzle every game, no matter where he plays.
I'll admit I was hoping Terrell would retire a Raven and I'd have one more year with him. But it's the NFL and I knew there was a 50/50 chance I'd have to say goodbye to Terrell sooner than I wanted. But…
Thank You Terrell… It's been an honor to be part of TEAM SIZZLE!
You don't have to be a professional athlete to be a warrior. And you don't have to practice yoga for hours on end to be flexible.
Whether you're a recreational runner struggling with aches and pains, a corporate executive who deals with job stress and making time for workouts, or a busy stay-at-home mom, trying to be healthy and strong for your kids…
If you are committed to doing hard things in order to be your best, you're a warrior. Balance out your willpower and hard work with chillpower, flexibility and recovery and …
Stay flexible, warriors!
Karen Dubs