Happy New Year Warriors!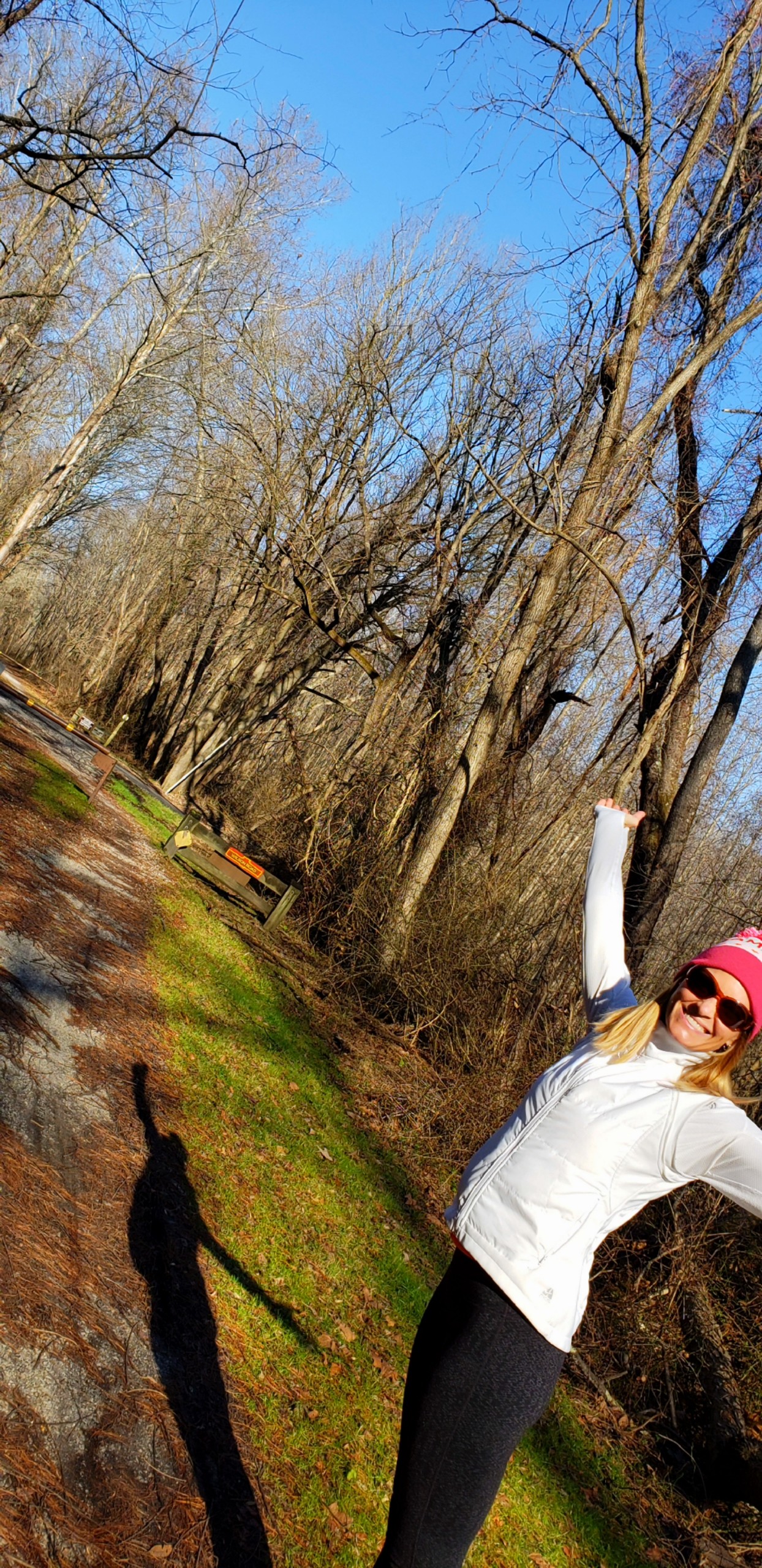 I love the possibility that comes with a new year. And, although I love Christmas, I also LOVE the peace that comes post holiday and the quiet yin winter season… A time to rest, reset and be more introspective.
Winter is time to look back, look forward and look inside.
January is also a time for many to get back into a healthy schedule, detox from cocktails and cookies and set positive and powerful intentions for the new year!
My intention / word for 2019 is SPIRIT because I want to connect more with people and activities that inspire and uplift my spirit.
What's your word for 2019?
To help you choose your word, contemplate these 5 questions…
What made you feel proud, uplifted and happy in 2018?
What habits, relationships, things to do want to detox from / let go of?
How do you want to feel in 2019?
Why do you want to feel that way? (because knowing your why can make all the difference in the world, especially when you hit obstacles).
What actions can you take and obstacles will you need to overcome to feel that way?
Then, list three things you're proud of from 2018.
For me…
Donating 10″ of superfood hair to Children With Hair Loss
Publishing my second book Adopting Joy and raising hundreds of dollars for rescue pups with yoga fundraiser classes and book sales
Turning 50 with a smile 🙂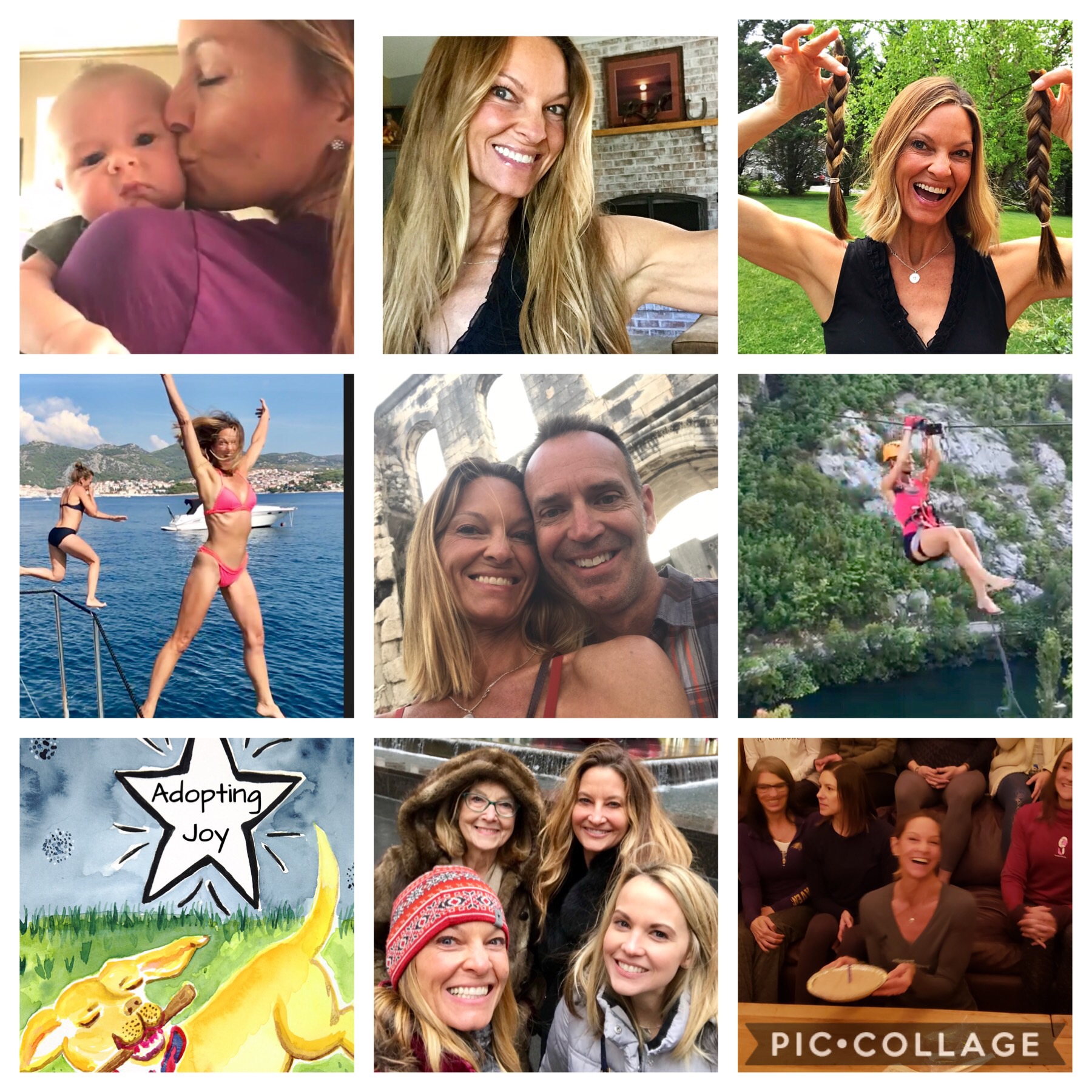 I'm also super proud of coaching 6 online Yoga, Superfood & Self Care Programs in 2018 and along with coaching dozens of one-on-one clients to help them improve their recovery, performance, flexibility and overall health and even decrease migraine and autoimmune flare ups.
My greatest joy truly comes from being part of a positive ripple effect in the world and helping my clients achieve their goals.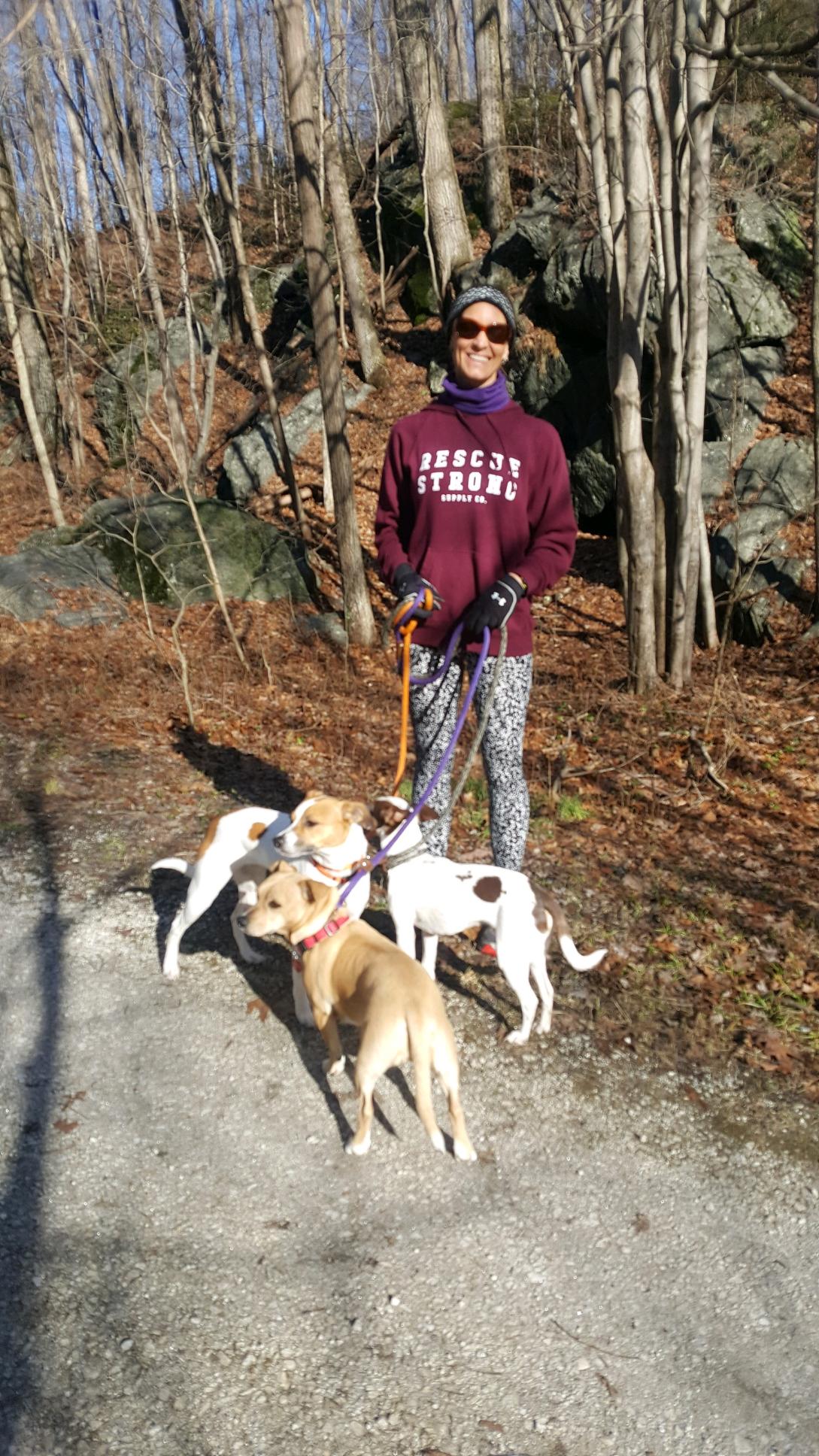 Next, list three action steps you can take to feel the way you want to feel. Understand you will need to overcome obstacles, but that nothing worthwhile is ever easy.
For me, one thing on my list is to get out of my office more and into nature with my rescue pups.
Fresh air and exercise is PURE JOY for us all, but even for a yoga teacher and health coach, it's hard for me to walk away from work and put myself at the top of my list.
So I chose the word SPIRIT for 2019 to remind me to fill my spiritual cup daily 🙂
DETOX FROM COMMERCIALS
Maybe at 50 I'm getting old, but rarely does anything on TV make me feel inspired anymore (Subaru ads with rescue puppies are an exception 🙂 … and yes I have a Subaru and three rescue pups, so there ya go. Good movies are an exception as well! I recently rewatched Forrest Gump by the fire with my hubby and pups. Time well spent.
CREATOR or CONSUMER
Recently one of the business coaches I follow (Sean Cannell) said "we're either a creator or a consumer"… and that really resonated with me.
So this January, as I detox off the Christmas cookies, I'll also be detoxing from commercialism and consumerism and focusing more on creativity… Because how we spend out time matters and health and wellness is as much about relationships and doing more that inspires and brings joy as it is about diet and exercise.
I am on my computer a good bit (necessary as a business owner and content creator!) But I try to be very mindful of the amount of time I spend sitting and also my posture and alignment when I'm on my computer.
If you're a fellow desk warrior, check out this seated Desk Warrior sequence.
INTENTION vs RESOLUTION
It's very easy to get overwhelmed in January … with all the commercials offering magic bullets, diet plans and expensive gadgets to health to help you lose weight and get fit and healthy "once and for all".
If you've read my book "Find Your Flexible Warrior" you know I don't follow any diets and I don't use any gadgets. My "exercise equipment" mostly consists of a pair of running shoes, a yoga mat and my body.
My "diet" is focused on fueling my body with delicious, plant-based, nutrient-dense foods (not restriction or calorie-counting) … and my medicine cabinet is full of essential oils and supplements for prevention and natural healing.
Did you know that almost 90% of people set a New Year's resolution, but about 60% give up after just a few weeks?! And, the average person makes the same resolution 10 consecutive years with no success 🙁 …
That's why I don't set resolutions.
But certainly, to be the best version of ourselves, it's important to step out of our comfort zone, challenge ourselves and try new things.
So, here are 5 Flexible Warrior inspired "non-resolution" ways to kick off 2019 healthier, lighter, more energized and positive :))…
Do a juice & superfood reboot! Order your juices via ZIA'S (if you're in the Baltimore area) or Order via Juice Fresh – they ship to most states and offer 100% organic juices!

Be sure to write "Flexible Warrior" in the notes at check out

(and forward your receipt to karen@flexiblewarrior.com) and I will then email you with my plant-based, superfood recipes and detox tips! Also, don't forget to clean out the tempting junk food from your pantry and STOCK UP ON SUPERFOODS!
Follow my Superfood for Athletes Pinterest board with healthy detox-friendly, plant-based superfood recipes and sign up for my enewsletter to get a copy of my e-book "Kick Your Sugar Addiction".
For at-home daily Yoga workout, try my Yoga Cross Train video series or my 10 day Core Yoga YouTube Playlist
Put self-care and boosting your immunity at the top of your list. What a concept! I see so many people doing the opposite in January, pounding their bodies into the ground and actually getting sick or injured instead of healthier and stronger. More is not always more. Try these immunity-boosting tips and yoga for self-care routine.
Incorporate more recovery training, foam rolling and stretching in 2019. Your body will THANK YOU…
Carve out 30 Minutes this week to set a postive intention for the new year…
Wishing you a heartfelt happy, healthy new year!
If you need more support, I offer customized one-on-one yoga and health coaching via Skype and phone.
XO & Namaste
Karen Dubs